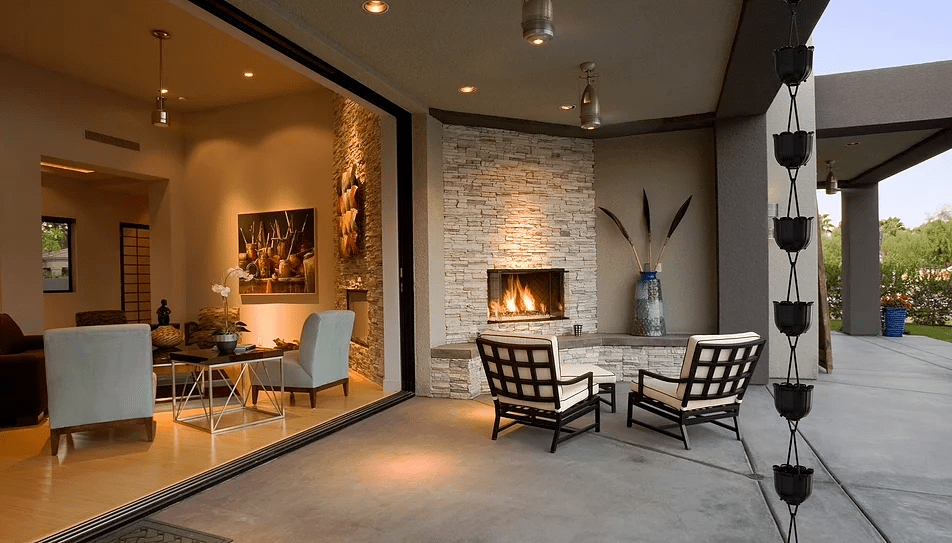 Why rain chains?
Rain chains are a functional yet elegant replacement for conventional gutter downspouts. We offer high quality copper and aluminum styles as well as accessories, all at extremely competitive prices. Also, read our "what to know before you buy" article!
Who we are
Rain Chains Direct has been the web's premier rain chain resource since 2003.  We work hard to cultivate for our customers a well-considered selection of classic and contemporary styled rain chains that will accentuate any kind of home. We offer the highest quality products at reasonable prices. Our goal is for you to have an efficient and satisfying buying experience.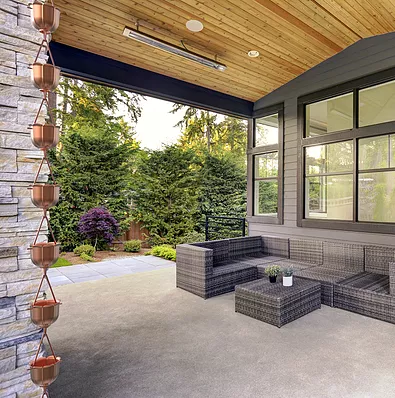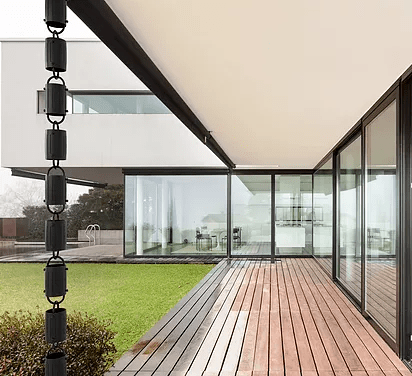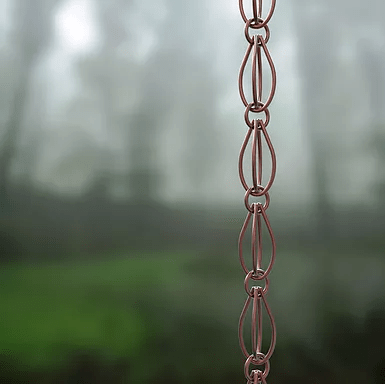 We love to receive pictures and comments from our customers. Below we have shared just a few of the many comments and beautiful pictures sent to us by our customers.
Dear Rain Chains Direct, We recently completed a new
covered deck and landscaping project in our backyard.
Our builder suggested we get rain chains so that the
beauty of the stone columns would not be hidden by
unsightly down spouts. Rain chains were a new concept to
us but we researched them online and chose an interesting
design that complimented our outdoor space. …they have
elicited many favorable comments from our guests. It's
also fun to watch the rain cascade down the chain. Thank
you for your great customer service Rain Chains Direct!
Lynelle & Don
Oakton, VA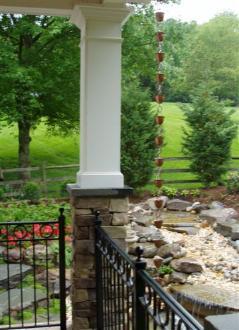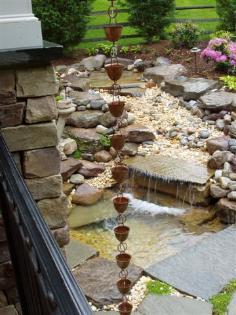 I love the rain chain. It enhances the beautiful flowers in my garden. People always ask where we got them all the time. Thank you for your great product!
Ann, from Rosenberg, TX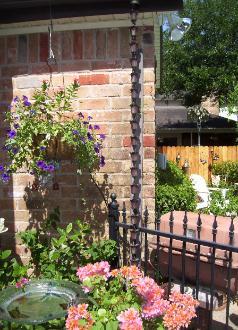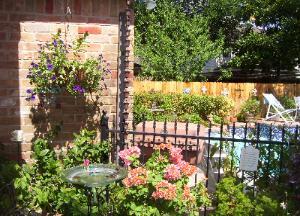 Thanks for your e-mail. The rainchain (4") that I
purchased from you has worked with great precision. As
you can see I have it attached to an oak barrel (painted to
match our house) which was specifically designed for a
rain chain. I purchased the oak barrel from Rain Barrels
by Aaron. There is no splash as the water leaves the
gutter and finally enters the barrel. Your design for this
rain chain is excellent. It has handled heavy rain (2
inch/hour) with no problem. I attached the chain to the
barrel with two small lengths of fishing line( which is
basically invisible) in order to keep the chain from moving
during wind. Thanks for your good work. Hope that you
find the pictures of benefit.
Vayghn Christian
Boone, NC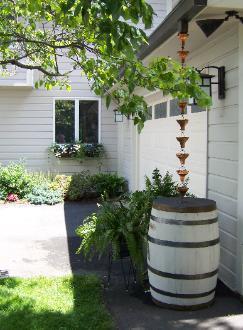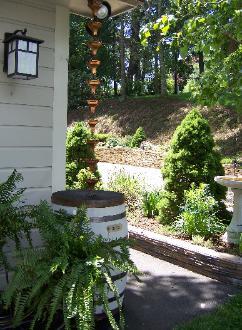 I absolutely love my rain chain as I can enjoy it when
walking to the hous or sitting in the family room
looking out the window. It is a real "show piece" and
provides a sense of tranquility and peace while
watching and hearing the water flow through the cups.
Cheers from Marie Ann in
Victoria, BC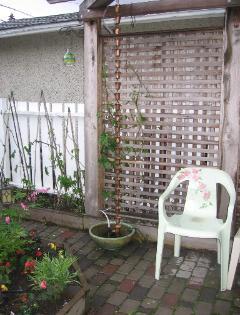 You have a great product! I installed one on each
side of my lanai, because I didn't have gutters on
the backside of my house. That was the point
where my roof angles joined and created a water
slide which shot the rainwater off my roof,
especially during our heavy Florida rain storms.
In order to use your rain chains I need to slow
the water down first. So, I added a large copper
bucket to your design, hung it from a strong
bracket, cut a 3" hole in the bottom and then
hung your rain chain from that. The rain chain
directs the water into a basin covered with rock.
Now everything works perfectly and I love
watching my dueling rain chains every chance I
get. Thanks again.
Allen L Ravenscraft
Lehigh Acres, FL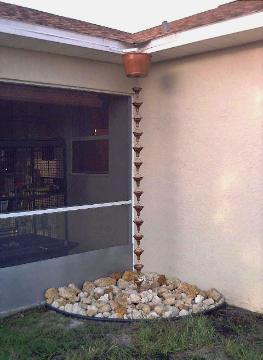 The era of internet can bring the worse and the best.
I was wandering around to find something unusual and
pretty to decorate the house and mostly the garden,
and stopped at Rain Chains Direct.. 
Immediately, as a flower lover, I stopped in the right 
section and made myself the decision to have one as
soon as possible, and made my choice with the Lilly
cups.. 
This was my best idea of the day, and as in my country
of France we are not used to have such adorable things
my happiness is double : I have a very good quality product,
and a gorgeous decoration.
I'm sure I'll go for another one sooner than later.
Thank you Scott and Rain Chains team
~Marie-Ancolie (Savoie-France)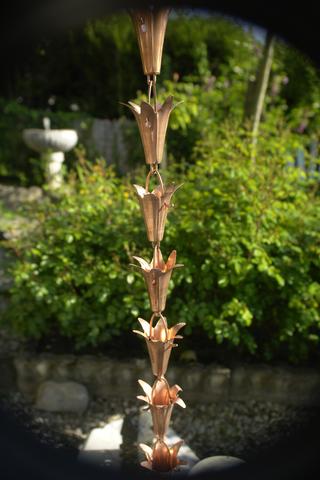 Talk to us
Answers and solutions are our thing. Please feel free to contact us and we will help you with whatever you need. (well, anything rain chain related.)
Email Us
Get notified about new products and seasonal sales